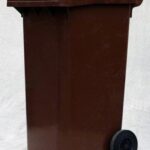 It's that time of year, when we look excitedly ahead to see what increases will be bestowed upon us, as regards the Council Tax.
Because, it goes up every year.
Without fail.
Sometimes by a little, more often by quite a bit.
And this year – before we have even received notification of the increase, in the post – they have added another cost.
From now on, we will have to pay an extra forty quid each year, to have our brown bin (garden waste) collected and taken away, each fortnight between March and November.
Of course, we don't have to pay that.  We can choose not to. But then our garden waste won't be taken away.
Mrs M and I don't do a great deal of gardening generally, we don't get much enjoyment out of it. Mrs M did have a splurge last year, but has already stated that she has lost interest.
But, even so, in the Summer, the brown bin is usually full to the brim each fortnight, with grass cuttings and bush trimmings, etc, because it all grows so fast, so we will have little choice but to pay up for this new cost. As will many people, I'm sure.
But what will really annoy me is that sometimes, the bin remains empty.  As I say, we do very little gardening and even then, really only in the summery months.
In early Spring and late Autumn though, gardening takes a back seat to… well, just about anything really.
So, for many weeks of the year, I will be paying extra to have my bin emptied… when it is already empty!
But of course, many people either won't pay or can't afford to pay this new cost/tax.
I can see an increase in bonfires at the weekend.