In an idea I have unashamedly stolen from our very own Rhod Gilbert lookalike, I thought I might tell you both a little bit about the motorcycles I have owned over the years.
It was a young chap at work (we were both about seventeen, I guess) who first got me interested in motorcycles.   Initially, I saw owning one as a means to an end: to save me having to cycle to work each day. But, it wasn't long till I took a real liking to the two-wheeled death traps.
So, having having seen an advert in the local paper for one that I could afford, I went and bought my first bike: an MZ TS150.  It even came with a free helmet. A bright orange one. Someone told me it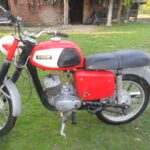 looked like I had a baked bean for a head and so I sprayed it black and painted a large ornate letter Q on the back – I was very into Queen at the time.   That MZ taught me a lot. It taught me how to ride a powered bike (hours upon hours of a weekend, spent  riding around the garages at the back of the houses, annoying the neighbours with it's little two-stroke "Waaannnngggg bangbangbangbang" engine).  It taught me about balance and control. And it taught me how to strip a carburettor down and drain it, in complete darkness – because I quite often had to, as the damn thing kept flooding.
It wasn't long before I upgraded, and my  next bike was a Honda CJ250N, in glorious, lurid yellow, bought from the venerable Rex Judd Motorcycles in Edgware – the same shop my dad had bought his bike from, back in the fifties. I'm not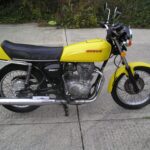 sure if I passed my test on this or whether it was on the MZ (can't remember the rules about maximum learner sizes from back then). But this was a real step up: along with the Japanese reliability, also came more power and more torque.  With this bike, I owned the road – or at least I thought so.  Several run-ins with members of Her Majesty's, persuaded me otherwise.  But I also had more accidents on this bike than any other. It spent so much time in the workshop at the Honda dealer in Dunstable, having something or other straightened out or replaced, that I was on first name terms with the supervisor there!
I followed that up with the one and only bike where I was able to choose the colour… because I bought it brand new: a Honda CX500 in black.  As Spiderman knows: with great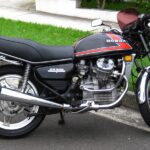 power, comes great responsibility, and with this bike I grew up and stopped dicking about on the roads. Not that it had GREAT power, but it was the most I'd had up to that point.  Of course, I had a few incidents on it: like the time I took the whole wing off a Reliant Robin, because for some reason, I didn't give way at the bottom of the motorway slip road (the bike was pretty much unscathed). But, it did get a bit bent up when I hit some black ice on the A5, early one November morning on my way to Bletchley Park.  And then there was the time we both ended up in a ditch on a country lane out near Basingstoke, when I passed out: I was ill and shouldn't have been riding, really. Luckily I wasn't going very fast.
Some years later, a chap at work sold me his Kawasaki GPz750, as he needed the deposit for a flat. Now I was getting some power!  I remember riding it home for the first time: I gave it a bit of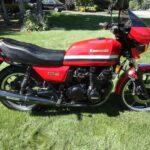 welly as I left a roundabout and – not being used to such acceleration – my left hand actually flew back off the handlebars! I learned to grip them a bit tighter after that.  I really enjoyed riding that bike and took it to France several times, to watch the Le Mans. I also did a tour of northern France with my girlfriend plonked on the back – she was an excellent pillion passenger.  I sold the bike to a friend a few years later and sadly it never saw the road again, as an electrical fault caused a fire in his garage and the bike was destroyed.
My next bike was a 40th birthday present to me. From me. A bit of a departure from what I thought I liked: I had been mooching about in a bike shop, looking for something to buy myself and kept being drawn back to a second-hand Triumph Thunderbird. I bought it and what a pain in the arse it turned out to be.  The engine had a vibration between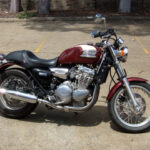 2500 and 3000 revs, which worried me, but after some research, I decided it was just 'character'.  Outside of that rev range, it was smooth as anything.  But then, it started cutting out on me. The issue seemed to be fuel related and I was back to my MZ days of stripping the carbs down – only this time there were three instead of one and I had to remove the tank to get at them. Each time I cleaned them out, the bike would run fine for about a hundred miles and would then start conking out again.  In the end, I bought a set of four carbs from a Triumph Daytona, off of ebay and used the innards to replace mine. Perfect, never had the problem again.  And then the forks got pitted and the resultant rust damaged the fork seals, so they had to go off to be re-chromed.  And then the battery kept discharging whilst it was sitting idle in the garage… can't remember if I ever fixed that.
My 50th birthday present was again a gift from me: A Triumph Bonneville America. Fell for this as soon as I saw it and it is my current ride.  It's been very reliable – thanks to the EFI – starts first time, every time, even after its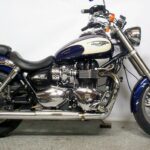 enforced winter hibernation.  The 900cc engine has more than enough grunt for my tastes and now that I've fitted her with some – not quite street legal – louder pipes, she sounds how she should. After a long journey, I do find the American-style riding position a little hard on my back, but other than that, she is a joy to ride.
It won't be long until another decade has passed me by, and already I am wondering if a new two-wheel beastie will be on the cards.
We'll see.