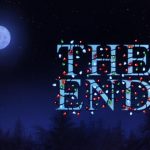 Amazing, isn't it?
Weeks and months are spent planning the event.
A small fortune is spent on – generally unwanted – presents.
Enough food is cooked to feed the whole street.
At least that's how it is in the Masher household.
And then the big day arrives; we indulge in all our excesses and then it's over.
Just like that.
And once the day is done and dusted, I just want to get everything back to normal: claim back the mantlepiece from the the mass of cards all carefully squeezed on there.
Get that tree down and take off the lights that have been reflecting in the TV screen for the past week.
Take down the lights that I put up outside (yes, for the first time ever, I was cajoled into illuminating the outside of the house.
And then of course, we steel ourselves in readiness for the next big event just seven days later: New Year.
Every New Year's eve, my dad throws a party at his house.   There are silly games to be played; finger food to be eaten and much, much alcohol to be imbibed.
And once Big Ben has chimed in the New Year, there is loud music and dancing and shouting to be had. It's generally a lot of fun.
But not this year, of course, as we are in Tier 4.
For us, the New Year will be seen in, watching Jools Holland on Channel 4 whilst trying to make some headway into the mountain of homemade sausage rolls and mince pies left over from Christmas.
Which suits me just fine: as I get older, I seem to be getting less enamoured with New Year celebrations.
I'm sure my dad's neighbours will be pleased too, as this year they won't have to put up with us doing the traditional – and very noisy – 3am conga down the street.