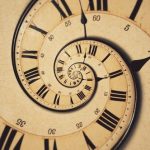 I have been working from home since just before the first lockdown and – all in all – I'm loving it.
I'm saving about two hundred quid a month in fuel, for one thing.
And about three hours a day sitting in the car.
I really do not miss that commute!
But, there is something that I do miss about that drive.
Being such a horrible, boring  journey – all 37.5 miles there and 37.5 miles back on the M1, M25 and M40 – I have to keep myself entertained, to save the steering wheel getting too chewed up through frustration.
As such, once I was in range, I would often talk to a small group of amateur radio operators, who frequent the Amersham repeater most mornings.  A friendly bunch, it was always pleasant to chat over technical matters with them. We even got together a couple of times for Christmas dinner… not gonna happen this year, obviously.
But, working from home, I am out of range and so  haven't been able to have my regular chats with them, and I miss that.
But, the other thing I am missing is my podcasts.  Each Sunday I would store up a week's worth of podcast listening onto a Re-Writable CD-ROM (I know: how quaint, in this day and age) and I would listen to it throughout the week, whilst driving… and until I was in range of the Amersham Repeater.
I would also record comedy shows from Radio 4 and Radio 4xtra and bung a couple of them on the CD as well.
I am still recording them, even now, but as I haven't been driving, I haven't been listening, so have amassed a huge backlog.
Episodes of Just A Minute, I'm Sorry I Haven't A Clue and The Unbelievable Truth, languish on my radio's memory card, amongst classic episodes of Dad's Army, Hancock's Half-Hour and Steptoe & Son.  The Answer Me This podcast remains undownloaded, along with The Modern Mann, Rutherford & Fry, Dr Karl, The Naked Scientists  and the Eclectic Tech podcast from the ARRL.  Amongst others.
Even if things do return to 'normal', I'm wondering where I'll ever find the time to catch up with them all.