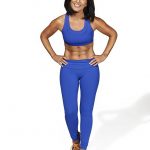 "Skinny bitch!", said Mrs Masher with more than a little bit of spite in her voice. "She's the same bloody age as me! How does she manage to stay so trim?", she asked, dipping her hand in to the bag to grab another mouthful of crisps.
I looked away from the telly. "I've no idea. Maybe she eats sensibly and exercises?" I proffered.
"Hmmm…", said Mrs M, picking up her phone. "I'm going to order her workout video. I wanna look like that when we go on holiday."
24 hours later, Davina McCall's latest Keep Fit DVD fell onto our doormat, courtesy of Amazon Prime. "Burn Fat In 30 Days" it promised.
For the past week, it has sat on top of the microwave, a trim Davina – her abs on show –  smiling out through the cellophane wrapping.
I just know that at some point we are going to sit down on the sofa, with a nice big box of chocolates and watch it.