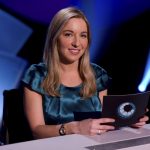 The current Mrs Masher and I were watching something on Netflix, earlier this evening.
It finished and as I pushed the button on the remote to exit the streaming service, the TV reverted back onto BBC 2, where the ridiculously difficult quiz programme Only Connect – hosted by the ridiculously wonderful Victoria Coren Mitchell – was playing out it's final half.
Too lazy to go channel surfing, we sat and watched it through to the end – attempting to answer questions as we went along.
I think I managed to successfully answer just one question… and that was a guess.
When that programme finished, it was immediately followed by that stalwart of British quiz shows: University Challenge.
Still being too lazy to do anything else, we watched some of that too.
This time, I managed to get two answers correct.
We watched just the first half, before Mrs M claimed she'd had enough and went into the kitchen to do the washing up.
Sometimes, you don't have to be smart… just patient.