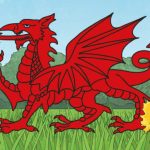 Well, there we go: another 28 days worth of drivel out of the way for another year.
Once again, it was a huge success, taking the blogosphere – and the internet in general – by storm.
It was crazy.
Anyway, I'd like to thank our French and Welsh correspondents (happy St David's Day, Bren), who regularly join me on this little self-imposed blogging challenge and I'd also like to thank you, my reader; my wife and family for supporting me throughout the month and… anyone else that knows me.