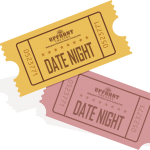 In an effort to claw back some of the quality 'together' time that we have lost over the years (thanks to the kids) last night, the current Mrs Masher and I locked them in a cupboard and went out to see a show.
It's been quite a while since we went to the theatre together, and so we decided to make a night of it and booked into a hotel as well.
Rather than pay a small fortune to see a show in the West End, we instead paid a small fortune to see one in Aylesbury.
Yes: Aylesbury.
Our accommodation was at a Wetherspoons pub, which doubled up as a hotel and whilst the pub was a little bit tired and old-looking, I'm pleased to say that our room was clean, modern and comfortable.
We thought it prudent to have something to eat and drink, before we ventured over to the theatre, which was just a few minutes walk away. I went for ham, egg and chips – you can't go wrong with that – while Mrs M opted for scampi.
The show we went to see was called The Comedy About A Bank Robbery and it was a fast-paced, gag-packed show full of slapstick.  Made by the same people that did the critically-acclaimed The Play That Goes Wrong, I was suspicious when the stage-manager walked on halfway through and declared that something had indeed gone wrong and that there would be a short hiatus whilst they sorted it out.
From our seating position – right in the middle of row F – we had an excellent view of the stage and whilst I could see some activity going on behind the set, there didn't seem to be too much going on. After about five mins, the play resumed. I think there had been a problem with one of the props and they had to hurriedly change the way the scene played out. Of course, not knowing what was supposed to happen, it didn't make much difference to us in the audience.
It was a fun show though and at the end, the cast all donned red noses, as it was Comic Relief night, and then fleeced another fiver out of me.
I was looking forward to getting back to the hotel at the end of the night – not just because of the adult shenanigans that were on the cards, but because I was genuinely quite tired.  Mrs M kept complaining she was really hungry and, upon sighting one of those food vans in the street, she rushed over and ordered herself a hot-dog, which she scoffed down, ravenously.
We had a couple of drinks before heading up to the room.
Mrs M lay on the bed. "I don't feel too good" she said.
"What's wro…"
Before I could finish, she legged it to the bathroom and barfed her dinner into the toilet.
A few minutes later she wandered back in. "You OK?", I asked. She certainly didn't look OK.
"No, I feel fucking awful", she said, before turning round and heading straight back to the barfroom for another chat with Phil and Hughie on the great white telephone.
And then, a bit later, the sluice gate at the other end opened up.
Lovely.
And that's how it it was for much of the night: her getting up every half-hour to go to the loo and me trying to not listen to the eruptions emanating from the bathroom.
Neither of us got much sleep… but certainly not for the reasons we'd intended.