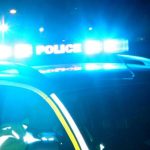 Last night we went to the pictures, to see Alita.
It was alright.
If you like that kind of thing.
On our way home, it was late, and we spotted some activity in the woods where we walk Saber. It was brightly lit up and we could see flashing red and blue lights at the far end.
At our end, a fire engine was parked, partially blocking the roundabout. Mrs M was very excited as we drove past. "Something's 'appening", she said, stating the obvious.
When we got home, she said "I'm just taking the dog out for a quick walk." I knew where she was going, of course.
So did Amelia. "Wait for me" she said, and they both disappeared out the door.
Harry went up to bed, as did I, but it took a while to get to sleep, as the Police helicopter then arrived and seemed to be hovering almost overhead for about fifteen minutes.
The girls eventually arrived back home and Mrs M woke me as she climbed into bed, freezing bloody cold, and started telling me all about it.
A young woman had gone missing and police suspected she might be in the woods. They had showed Mrs M a picture of the woman, but she didn't recognise her.
Mrs M reckoned that with both the Police and the Fire Brigade, there must have been about forty people combing through the woods, and Saber apparently had a lovely time, meeting all the German Shepherd police dogs.
We don't know the outcome: whether they found the woman or not. I've looked on the local news this morning, but there's not a mention of it.
My fingers are crossed that it turns out well.