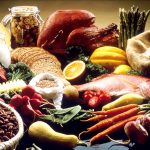 We went out last night, for a meal.
It was my niece's 18th birthday, so about thirty of us gathered together in this restaurant for a big birthday dinner.
It was meant to be a surprise, but of course, she recognised all the cars in the car park.
We'd not been to this particular restaurant before – in fact, it's only about five miles away, but I never even knew it existed.
It has quite an impressive menu, featuring gastronomical delights from Italy, Mexico, America, India and – of course – Britain.
Now, when it comes to choosing from a menu, I'm not one for hanging about. I'm not one of the "I really fancy this… but that looks nice too. Oh what shall I have?" brigade.  If I take longer than one minute to pick something, then I just get annoyed with myself.
Because it's all nice, so just pick something for chris'sakes!
But this time, it must have taken me a good five minutes. I was REALLY annoyed with myself. But I think it's because there was TOO much choice.
I'm quite partial to a Chicken Jalfrezi and I love a well cooked, proper Lasagne.
Chimichangas are delicious and there are times when only a burger will do, of course.
So what epicurian feast did I plump for, from this exotic and eclectic menu?
Gammon, egg and chips.
And it was bloody lovely!