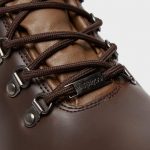 Having a mutt, means I do a lot of walking.
Which is good, as I need something to persuade me to get my fat backside out of the chair, sometimes.
Problem is, 'walkies' is something that has to be done daily.
Twice daily.
Whatever the weather.
As such, I have proper outdoor clothing… bought from proper outdoor clothing shops.
I got myself a new pair of leather walking boots last year. They are a good make and seem to be well made.
They weren't that cheap, either.
A little tab on the laces says "Waterproof" and I wondered how that could be if stitching is involved, so I asked the shop assistant if they really were waterproof.
"Yes", he said, "… they are. To a degree."
Well, he was right, because I took the dog out earlier and after about an hour, my feet were soaked.
Soaked to a hell of a degree.
It's not like I'm wading through streams or anything, just walking in longish grass.
This is the third pair of walking boots that I've owned, which were supposedly waterproof… but actually weren't.
How can they be tagged as being waterproof, when they clearly aren't? There must be some sort of trading law that's being broken here, surely?
Anyway, if the wet weather continues, I may have to dig out my Farmer Giles' welly boots.
I hate wellies.