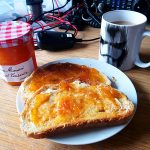 When I am at work. I will have porage as a mid morning snack – as I have mentioned here before.
But at home – as I am today – I'm quite keen on tea and toast.
With jam.
And – as everyone knows – the best jam to have on toast, is apricot.
You are all probably also aware that the best apricot jam in the world, is made by my sister-in-law.
Unfortunately, she has run out, but this pot of French apricot conserve, is actually a pretty good substitute.