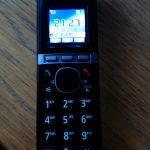 This is our home telephone.
Well, one of a set of three.
Like most home phones, it's of the cordless DECT variety.
And it's knackered.
We seem to go through phones like they are going out of fashion. I reckon I have to replace them every couple of years or so.
We've had all the makes, but none of them seem to last.
"Panasonic is a good make", "I thought. These should last OK".
But no. The ringer is gone and we can hardly tell when it's ringing sometimes.
I wouldn't mind so much, but we rarely use them.
Maybe I'll go back to the old corded versions. With a wire.
They never went wrong.
Well, hardly.