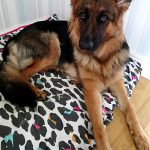 Well, I haven't posted any pictures of muttley for a while, so what better opportunity than during a blogging challenge?
Saber is about 14 or 15 months old now and she has more energy than the Duracell bunny.
She eats like a horse and is costing a small fortune to keep.
But, she's also dragging Mrs Masher and I out of our armchairs and onto long walks… which can't be a bad thing.