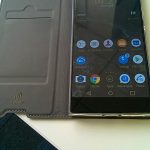 A while back, I wrote about the need for a new mobile phone and my trials and tribulations over what to get and which network to switch to.
Well, here is what I plumped for: the Sony XP1 Ultra.  Sticking with my preferred brand. It has a six-inch display; Android Dairy Milk Crunch (or whatever the latest version is called); fast processor(s) and the all-important camera. Well, two cameras – like most phones today, it has a camera on the front for taking selfies. Not that I have ever taken a selfie, but, you never know.
I got it for a bargain price too, thanks to Mrs M having a voucher for sixty quid off!
And – following advice from a couple of you – I opted for giffgaff as my network provider. Quick and easy to set up, and pretty cheap.
So far, I am most pleased with it.