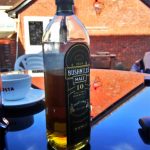 It's been a tiring old weekend, with lots getting done and we needed to kick back a bit.
So, this afternoon, we had some family over for a barbecue and a few drinks.
And then a few more drinks.
Now, I've liked whisky for a long time and our sideboard has many bottles in it, that have been bought me over the years.
And whilst I'm partial to a nice scotch, I find Irish that bit smoorther.
This one was unopened and was shouting out to be uncorked… Mick and I didn't want to let it down.
A fair afternoon's work, I'd say.