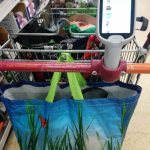 I always do the weekly food shop.
This is because, if Mrs M does it, it takes twice as long and costs twice as much.
And, I don't mind doing it really.  It's an hour or so, on a Saturday morning.
Mrs M used to write a list for me, but nowadays I just go up and down each aisle, and normally when I see something, I'll know whether I need to buy it or not.
Then, with my full trolley, I'll make my way to the tills. I have my favourite tillsters: there's David, he's a chatty old boy; there's Sandra, she's my mate's sister and there's Rachel, who's a lovely girl, with a great sense of humour and a chin you could get pickles out of a jar with.
But, I no longer need to visit them. This morning, I 'checked out' in little more than a minute, because I had already scanned and packed everything, because our local Sainsbury's has now introduced Smart Shopping or Scan & Go or whatever they call it.
At this stage, I'm not sure whether I like it, because I kept forgetting to scan things and then I'd struggle to get it all in the bags – definitely easier to pack at the till. It's hard to tell in the picture above, but I had a mixture of stuff in the bags – they weren't packed to my usual OCD standards.
We will see how it goes though.