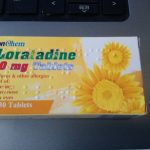 It's that time of year, again.
As a child, I never suffered from hayfever and I would ridicule any of my school-friends that did: "C'mon", I'd say, "It's only a bit of pollen!"
When I reached adulthood though, it suddenly hit me and I fully understood the torment that my friends had gone through.  I then suffered with it for many years.
As I got older, the symptoms started to reduce slightly each year, and nowadays I only really get it if the count is high and I am on my bike: pollen up the nostrils at 60mph, is bound to have an effect!
This year though, I have started suffering from it quite badly again.
And I'm not alone, as both kids also have it pretty bad.
Today, I have made the first of – what I am sure will be – many trips to the chemist, for some much needed relief.
The price of these medications seem to go up each year, but, as I'm sure any fellow sufferers will agree, it's a price well worth paying.