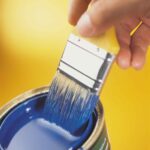 I am on holiday this week.
Let me re-phrase that: I am not on holiday this week.
A holiday for me is time off of work, relaxing and doing whatever I want to do.
Yes, I am off work – just using up some more of my annual leave allocation – but 'er inside of the doors has me decorating the main bedroom.
Which is not my idea of a fun thing to do when I am off work.
In fact, sanding down sculpted skirting boards, doesn't even make it into my top 100 – being somewhere between being poked in the ribs with a sharp stick and having my toenails cut with a chainsaw.
But, it was looking a bit drab and needed doing.
However, just like all such projects, it has grown.
The original idea was just to freshen it up with a bit of paint.
But then, having spent a small fortune on Dulux Matchpots and having painted a patchwork quilt with them on the wall, Mrs M was unable to choose which particular shade of grey she preferred (there are fifty shades to choose from, I'm told) as none of them quite went with the bedding and the curtains.
So, we now have new bedding and curtains.
And a new ceiling fan.
And there's new carpet coming at the end of the week.
I'd better crack on then, excuse me.