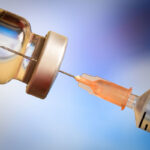 To badly paraphrase Mr Meatloaf.
Yes, yesterday I had my Covid vaccination – the Pfizer one (you don't get to choose).
I must say, it was all very efficient.
I turned up five minutes before my appointment, was seen spot on time and was done two minutes later.
The worst part was having to sit down and wait for fifteen minutes, before being allowed to leave – just in case I was to keel over for some reason.
I didn't keel over and drove home without feeling any ill effects.
From leaving the house to getting back home took no more than 40 minutes.
I've sat for longer than that in the doctor's waiting room, before now.