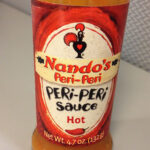 It was Mrs Masher's birthday earlier this week.
We did nothing special for her.
At all.
Normally, we would have gone out for a meal, but that's obviously out of the question.
She could have cooked something special (I don't do cooking, you know that), but that day she was late home from work, anyway, so it was just whatever was in the freezer.
With chips.
So yesterday, she got to choose whatever she wanted as her birthday dinner – from the limited array of takeaway meals at our disposal.
She opted for Nando's.
Because she loves Nando's.
We all love a Nando's.
Whilst they didn't deliver, they did do a Click & Collect service, which was fine.
I don't think the takeaway meal tasted quite as good as when you have it in the restaurant, but… it still tasted great, and when you haven't had one for a long time, it always tastes even better.
And Mrs M was well happy with it, and that's what counts.