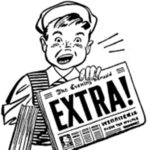 Our local paperboy is in his early to mid-thirties.
A tall, well-built black man, who presents quite an imposing figure as he strides along in his dark track suit and bright white trainers; the reflective orange paper bag slung over his shoulder being the only indication as to why he is out so early in the morning.
I remember that I used to have a morning paper round when I was a kid.  Round 9, it was; one of the smaller rounds on the newsagent's books.
Despite it being quite a small round, I remember my bag being pretty loaded… and on a Sunday it would weigh a ton!
Of course, I always used to nick a paper to take home and I always thought it pretty obvious to the newsagent when my dad cancelled his paper, the very same week that I started, but nothing was ever said.
But I find myself genuinely surprised to see that paperboys (and girls, I suppose) still exist, even if in far reduced numbers.  I personally cannot remember the last time I read a printed newspaper.
Back in the day, I did, certainly. Back when I had more free time.
Of a Sunday, I would like nothing more than to sit down with some tea and toast and spend several hours ploughing through The Sunday Times.
But nowadays, like so many of us, I pick my news up online: the BBC mainly, but also The Guardian and, occasionally, The New York Times.
When I worked in that London for a bit and commuted by train, I would sometimes pick up a  Metro or a discarded copy of the Evening Standard but to be honest, they were so full of celebrity pap, it was hardly worth the bother most of the time.
I reckon the days of the printed paper are numbered… and sadly, the same goes for the humble paperboy/girl.