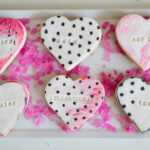 I was a bit surprised yesterday afternoon, when there was a delivery from DHL of some chocolates, a bunch of roses and a heart shaped balloon.
I racked my brain: had I inadvertently ordered a Valentines Day gift for the wife?
No, I hadn't. I was sure of that.
That meant of course, that she must have a secret admirer.
Eek!
Then I looked at the address label and saw that it wasn't for Mrs Masher, but for my daughter.
So, my daughter has a boyfriend she hasn't told us about… or she has a secret admirer.
Eek!
I needn't have worried: as it turns out, this was a late delivery for Galentines Day.
That's right: Galentines Day.
Never heard of it? Well no, neither had I, but apparently, it's a thing.
It's supposedly a day for all women to declare their sisterly love for their best friends.
Apparently, this idea was thought up in an American sitcom, way back in 2010 and it has since gained traction around the world.
I bet Hallmark are absolutely loving it.