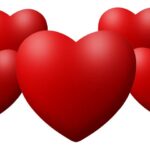 Valentines Day!
In my more youthful days, this was both an exciting and a nerve-racking day.
I received a number of cards over the years – usually from girls that  were already actually dating – but the exciting ones were those from the "unknown admirer" that came in the post or were left on the desk at work for me to find when I came in.
And it was exciting: "I have an admirer… who could it be?"
It could also be embarrassing: "Hey Masher, I see you got a Valentines card. Do you know who it's from? Is it your mum again?"
Of course, it wasn't from my mum.
Again.
And later on, the current Mrs Masher and I continued with this romantic soppiness, for several years. even after we were married.  But, it fizzled out after a while. Seemed a bit pointless spending several quid on a bit of card just to say "I Love You", when I could actually say it to her face, for free.
And it felt daft taking her out to a restaurant, and paying Valentine's Day prices, when we were already going out to eat a couple of times a week anyway.
And so it just kind of got forgotten about.
She has gone into work this morning and neither of us even thought to mention it, before she left.