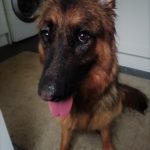 Each morning I take the dog out, so that she can stretch her legs and do her doings.
Usually, our morning perambulations would consist of a walk around the meadow, but the council have been somewhat lax in cutting the grass and so it's pretty long now.  No problem with that, as Saber loves running through the long grass.  However, a couple of months back, she managed to pick up a couple of tics – which are known for residing in long grass – and they were a pain to get rid of.
And so – until the council get round to cutting the grass – we have moved our morning walk over to the local park, alongside the woods. The grass here is being cut regularly and Saber is able to run on it with impunity.
Of course, with the pleasant summer that we've had, I've got to know some new dogging friends over the park. There would generally be half a dozen or so people out walking their dogs, even at 6:30 in the morning, obviously giving their mutts some exercise before going to work for the day, and we would all say a friendly hello to each other as we pass, usually adding a comment or two about how pleasant the weather is.
But, the weather has turned sour and it hasn't stopped raining for three days now.
As such, Saber and I have had the park to ourselves, because it seems that people think dogs don't need to be exercised when it's raining.
For the past two days, we've not seen a soul over there.
Not even the Chinese lady who talks to no-one and just stands in the middle of the field for fifteen minutes, wearing a face mask and holding a rolled up umbrella, while her little bouffanted Bichon walks circles around her on its extending lead.
"Oh Fido, look at this weather. You don't want to go out in this, do you?"
"Err… yes I do, actually:  I'm a dog. The rain doesn't bother me at all. In fact, I love it.  Did you not read my profile when you swiped right: 'Enjoys good food and long walks… in all weathers'?"
Jeez people, take your dog out!