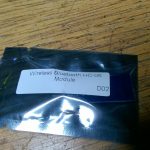 I buy a lot of stuff from China.
Just small stuff.
Electronic components, in the main.
Because they're cheap and are all over a well-known auction site.
In the past, even the postman has moaned to me about all the "… stupid little packets from China…" that he has to deliver to our house.
One such package arrived yesterday: a small Bluetooth module for a forthcoming project.
"Is that from China?" asked Mrs M.  I nodded. "Well, make sure you wash your hands after handling it, she said, in obvious reference to the Corona Virus outbreak.
"Oh, don't be daft", I said very matter-of-factly, "It's absolutely fine. There's no way a virus could survive a three-week journey through the postal system." I continued… as if I actually knew what I was talking about.
Then I took the package upstairs to the shack, where I stopped briefly in the bathroom, to wash my hands and spray some Dettol on it.