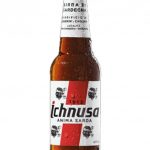 Mrs Masher bought me an advent calendar at the beginning of December.
A big box, with a bottle of beer behind each perforated cardboard window.
Different beers from around the world.
And, it was a cracking selection because, out of the 24 bottles, I think there was only one that I didn't enjoy (can't remember which it was).
But last night, sitting in front of the telly, watching Spiderman: Homecoming, whilst balancing a plate of home-made enchiladas on my lap, I finished off the last of the 24 bottles.
Brewed in Assemini, a small town in Sardinia, this was quite possibly the pick of the bunch.
I'm quietly hoping for another advent calendar, this year!