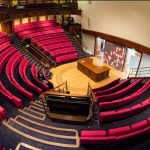 Today, Harry and I visited the Royal Institution, down that London.
It was this: most excellent.
Harry was invited as part of the Maths Masterclass events that the RI has been running.  He attended 10 of them, earlier in the year, up at Bletchley Park and this was a follow on.
He got to sit in the famed lecture theatre for four hours, along with a whole load of other kids, whilst the parents (actually: parent singular, as only one was allowed to accompany their child), did similar maths puzzles and games in one of the other lecture rooms.
It was a lot of fun. For both of us.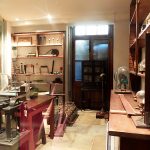 And during the lunch break, I got to tour the place a bit and soak myself in it's history and scientific grandeur.
I think I may have squealed  a bit like a girl, when I found myself standing right outside Michael Faraday's actual laboratory – excuse the reflections on the photo: it was behind protective glass.
Harry was less impressed. To him, Faraday – and Davy, for that matter –  is just an old dead bloke who invented lots of things that aren't as good as what we have today.
Aarrgghh!
Hopefully, when he is older, he will understand the significance of what Faraday achieved.
On another note, on the train on the way home, I overheard the conversation of two young girls seated behind us.
I say 'overheard' but they were talking rather loudly.  It kinda went like this:
"How is it at work? You still stupidly busy?"
"Yeah. We have this big job in Dubai that…" and she went on at length about some new hotel that she was involved with. "How's it with you? You still on that same project?"
"No. They've moved me on to the Apollo 11 project now. It's REALLY interesting, but a lot of it goes over my head, to be honest."
My ears pricked up at this point. The Apollo 11 project? What's this all about then? What's this young girl doing that involves Apollo 11? Where does she fit in? What's happening? I need to know… tell me… tell me…
But, then they got up and left the train at the next station, so I never got to find out.
Aarrgghh!