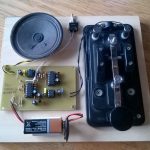 Morse code is an anachronism.
Invented and used in the 1840's, it seems somewhat out of place in today's high-speed world, where data rates are so high that whole sentences of text can be sent in the blink of an eye.
It's an outmoded form of communication, that just doesn't sit well with modern  methods.
And yet… it does.
It is still used by the military – not necessarily as the main basis of contact nowadays, but certainly as a fallback, I'm sure.
And in the world of Amateur Radio, it is still a much sought-after skill amongst many.
There are plenty of amateurs out there who can do Morse.  Many of them excel at it.  And there are even some that won't use any other method to communicate over the air.
Sadly, I'm not one of them.
I would LOVE to be able to read morse code, properly.  I can send at slow speeds and I can read it at very slow speeds. Very slow. Very, very slow. Reading is the hard part.
Rather like learning a new language (and ostensibly, that's what it is), there are many different methods for learning it. Over the years I have tried reading books (Duh!); listening to tapes and listening to other operators sending. I have tried several PC programs and mobile phone apps. I have built machines for practicing with (see picture above), eventually taking them apart and using the bits for another project, because I was getting nowhere.
Frustratingly, in my teens, I did learn how to read and send, and could do so at about five or six words a minute.  If only I'd kept it up.
Similarly, I used to be able to parlez francais to a reasonable degree.
But I allowed them both to lapse and nowadays I struggle to learn either.
And it really annoys me.
I'll admit that this is partially down to commitment. I don't seem to have the time nowadays to study for such things.
And the inclination. That's kind of gone too: I want to learn it, but I don't want to put in the effort.  Like the rest of the MTV generation (yes, I think I just about fall into that category) and, as Freddie Mercury sang: "I want it all and I want it now".
And so, after several months of "giving it another go", I have hung up my headphones.
Again.
For the last time.
That's it! I have resigned myself to the fact that morse code will forever evade me.
No more, will I try learning and decyphering that strange sound of dits and dahs pouring from my radio speaker.
No more, will I spend hours in the car listening to an 800Hz tone beeping out letters of the alphabet to me.
No more will I drive the family mad, as I sit in my room badly tapping away at a morse key.
No more, will I… who am I kidding? Give it three months and I'll be back at it for another half-hearted attempt.