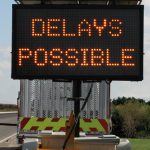 I've had a torrid time of it this week, on the motorways.  I know I often joke about it, but I'm starting to wonder whether being able to bring traffic to a standstill, merely by being on the same road, really is my super power… as rubbish as that would be.
My journey home from work on Monday had an extra hour added to it, when an accident on the M40 reduced the motorway from three lanes down to one. During rush hour.
Likewise on Tuesday, an accident on the M1 at Hemel closed three of the four lanes during rush hour, adding ninety minutes onto my journey home. Ninety minutes! And when we finally got moving and got past the accident, there was hardly anything to see. If I've been made to wait that long in the traffic, I want to see a reason for it, carnage even, not just a BMW with it's front bumper hanging off!
Wednesday. Don't get me started on Wednesday! I had to go to Swindon for a couple of meetings and so left half an hour earlier than normal. We suddenly ground to a halt about 2 miles from J18 on the M25. And we just sat there. And sat there. Eventually we inched along and I could see that all the lanes had been closed, due to an accident and the police were turning vehicles round and sending them back up the motorway. We all got diverted through Rickmansworth. Can you imagine four lanes of motorway traffic driving through Rickmansworth? It wasn't particularly quick, I can tell you! I eventually arrived in Swindon – having completely missed my morning meeting – after five and a quarter hours. A journey that normally takes about two and a half.   I left as soon as I could, following my afternoon meeting, but was thwarted once again when an accident on the M4 slowed us all down. "Long Delays Between J12 and J10" threatened the overhead signage. My heart sank and I looked to my satnav for advice. "Avoid this bit of the motorway and go through Reading", it said. Sort of. No way! I've been caught like that before. Reading at rush hour? It'd be a nightmare.  And yet…   If I could just get to the A329… Inexplicably – and possibly because I still had the morning's motorway horror still in my head, I found myself taking the slip road at J12 and heading to Reading on the A4.  I was right: it WAS a nightmare.  Four hours after leaving Swindon, I arrived home.
Thursday wasn't so bad, save for a bit of a hold up on the 413 Denham Road in the morning.
And then yesterday, Friday – when I can normally work from home – I had to go into work for a meeting. I had a lovely journey in. Friday mornings are definitely the best time for driving on the motorways.  Friday afternoons, not so.  My journey home was again lengthened by some numpty who doesn't know how to drive properly on the motorway, ramming into the back of another vehicle and causing a huge tailback on the M1.
If only everyone was as good a driver as what I am, there would be no accidents. They all drive too fast and too close. Unlike Miss Daisy here.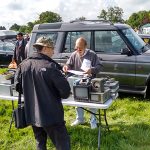 But today has been good: a leisurely drive to our local annual ham radio rally with a couple of mates.
Good weather.
Plenty to see.
A couple of bargains.
Meeting up with more friends.
And an ice-cream.
A perfect Sunday.