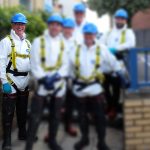 Yesterday, I went on a visit to Abbey Mills pumping station, in the heart of that London.
Well, maybe not the heart, but certainly a major organ, like the liver or maybe a kidney.
Anyway, it was dead good.
We started off with a finger buffet for lunch, before sitting down for a ninety minute talk on Sewage Through The Ages. It was quite fascinating… some of it.
And then we put on some protective clothing and climbed down into a sewer. It was a bit smelly, but not too bad, considering. And if nothing else, it was a cool respite from the sun. Our guides took us on a thirty minute walk inside a nearby sewer, which they had washed down for us. There was still a couple of inches of sludge and silt to walk through, but it wasn't too bad at all.  Being down there, one got a sense of how much work the Victorians put into it. The fact that they still work perfectly 150 years after being built is testament to that.  The picture above is of me and my team, just before we went down (as I've not sought permission from any of them to put their picture on here, I've blurred them out, to be on the safe side).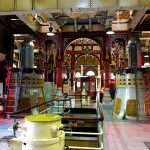 After the sewers, we were taken on a tour of the station itself. With its magnificent Victorian architecture, it's no surprise that English Heritage have listed the building.  And inside was even more impressive. I would imagine more modern pumping stations, to be stark, utilitarian places, but Victorian engineers and architects liked to have a touch of the grandiose about their work.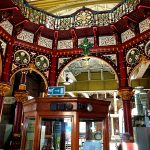 It's a fascinating visit and I would recommend it to anyone… especially as it is free.  I think the water board only run the tour for one week at the end of May and I know it gets heavily subscribed – because it took 18 months for me and the team to get tickets… and we work for them! But it might also be available (I'm told) during London Open House, in September. If you get the chance, it's definitely worth a look.