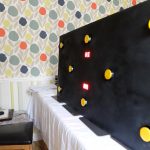 For ages – and just for the fun of it – I've wanted to build a Batak.
I think that's short for Button ATtAcK.
I think.
Basically, it's a reaction game: a button lights up and you press it, and then another lights and you press that, and then anoth… well, you get the idea.
All against the clock.
They are used widely in Formula 1, I believe, to help the drivers improve their reaction times. It takes speed, hand-to-eye co-ordination and good peripheral vision.
I've always thought that building one wouldn't be too difficult, but my programming skills are THAT rubbish, that I could never quite figure out how to do it.
And then I spotted a project to build one, on the Instructables site, by a clever chap called R0RSCHACH and I have pretty much copied his design exactly, but then added a few little bits so that it can either run off of a 12V battery or can be plugged into the mains.
OK, it's not as impressive as a proper Batak, I suppose, but it does the job and it only cost me about fifty quid to build. Proper ones go for hundreds or can be hired for several hundred a day!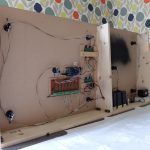 It's been a lot of fun building it and I've learnt quite a lot too  -though my programming skills are still rubbish.   My woodworking skills aren't much better and the wooden framework probably took me longer to build than the electronics (big thanks to my mate Graham, who helped with the woodworking side of things).
And does it work?  Well, it's against the clock, as I said, and the most I have managed to score is 42 (yes, I know: the meaning of life, the universe and everything). Amelia, however, has managed 62… which is really annoying!
Bloody kids!
So, now that's built, I need another project to keep me busy.
"NEXT!"