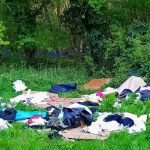 Even as I gushed almost lyrically about the beauty of our local woodland in my previous post, evil forces conspired to ruin it for me… and for all of us.
Gypos!
There is a public footpath that travels alongside the woods, along with a swath of grass. Last weekend, gypsies cut the padlock and chain on the large gate that the council use to get their mowers in.
Before we knew it, about a dozen caravans had set up camp alongside the woods.
Tatty old Transit vans and pick-up trucks parked on the grass and kids on motorbikes and quad bikes tore through the woods, making it very unpleasant for those of us that used the woods for recreational walking.
Many dogging friends gave up and took their animals elsewhere, whilst a rumour (possibly apocryphal) that the gypsies had held a dog to ransom until it's owner paid up, forced many others to give the place a wide berth. Not me:  Saber and I continued our walks in the woods… but we did steer clear of where they were camped.
Mercifully, they have now moved on, after just a week, but they left their mess behind them – a small part of which is shown in the pic at the top of this post.
I felt sorry for those houses whose gardens backed on to the grass area where they camped. I heard reports of rubbish and even human faeces being thrown over the fences into their back gardens.
Even though the council have been quick to clear up after them, they've left their mark: broken branches and damaged bushes; scorched patches where they've had fires; flattened grass and flowers.
And – of a course – a frightened community.
And they wonder why no-one likes them.