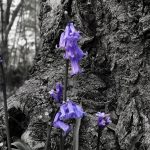 We are lucky, in that just five or six minutes walk from home, we have a small area of woodland to visit.
And – having a dog – we visit it often.
Almost daily.
According to the Forestry Commission board at the entrance, the woods are classified as "Ancient Woodland" and are estimated to be about 800 years old.
Saber loves it in there: as far as she is concerned, these are HER woods and she runs around like she owns the place, chasing squirrels and the occasional Muntjac Deer which, I hasten to add, she never gets close to catching, as they quickly disappear into the undergrowth.
And we'll often meet other walkers and dog owners in there and after a while, we all get to know each other.
But, by far, I prefer it when we don't meet anyone else: early mornings or late evenings just before the the sun sets, is best.  It's perfectly quiet as we walk along the multiple tracks that traverse the woods and sometimes I find myself wondering about those who have walked here before… not like yesterday or last week, but hundreds of years ago: Elizabethan; Georgian; Jacobean.
Are our footsteps treading the same paths, I wonder?
At certain times of the year, a low mist or fog will hover over the ground early in the mornings, mixing with the long shadows cast by the trees and just making the place feel even more wondrous.
And at this time of the year, the bluebells come out, adding some extra pizzazz to the greens and browns that colour this particular piece of countryside. I took the above picture yesterday, and tonight I converted it to black & white and then colour popped the bluebells. All a bit rushed, but you get the idea of what I was trying to do.