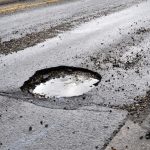 A little bit of cold weather and here we go again: the damn roads start falling apart.
Not that they were much cop to start with.
There's a road that I have to take each day, driving into the arse-end of Langley.
It has loads of pot-holes in it, which have been there for a long time.  A bloody long time.
After last winter, the council filled some of them in, but they didn't do a particularly good job, because they soon appeared again.
And, as the weather has worsened, so the holes have got bigger.
It's dead easy to spot the drivers who take this road regularly, like myself, as we know exactly where to dodge and weave to avoid the holes. I'm sure we must  look like idiots, weaving from side to side as we drive up a perfectly straight piece of road.
And a recent pot-hole has opened up on one of the roads that I take in the morning, on my way to the M1.
In just a few days, it has become huge. I reckon a Renault Clio could drop into it quite nicely.
But it's quite safe, as the council have helpfully sprayed some square brackets around it.