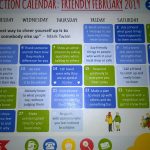 I mentioned last week about Time To Talk day.
Well, we were given a sheet of things to try to do, to help with our own mental wellbeing, throughout the month.
So far, there have been ten things to try. I think I have succeeded/tried maybe about half of them.
Today's challenge is to involve others and get them joining in.
So come on, both my readers, join in!
Else, next Monday's challenge will be particularly difficult.
Although, I must say, I'm not looking forward to the 26th… I'll probably end up getting my face slapped.