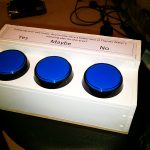 A young chap at work has the enviable task of talking to members of the public about the Water Board's plans for the area.
I say 'enviable', but he enjoys it. He's that sort of chap. It doesn't appeal to me at all. Horses for courses and all that.
But, he was telling me that when he goes along to an event and sets up his tent, he has no-way of keeping track of how many visitors he has had and whether the experience has benefited them at all.
So, I built him a counter. Just a simple thing, shown in the picture attached to this post.
It only took me a weekend to build the electronics and fine-tune the software that someone cleverer than me, put together.
However, it then took many weekends to design and build a wooden box to put it in.
Far too many weekends.
Because my woodworking skills suck. As you can see.
So, I was somewhat apprehensive when I presented it to him last week.
But, he was over the moon.
Genuinely.
Exactly what he needs, apparently.
Other ideas for its use, have been offered up from other parties who have seen it in the office and I feel that I might get commissioned to build another one.
I'm happy to.
Happy to do the electronics, but someone else can build the bloody box for it!