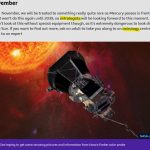 Flicking through the BBC website t'other day, I saw a link which said "Space Calendar: What's Happening In 2019?"… or something like that.
It turned out to be on the Newsround site – aimed at kids – so it was very easy for me to understand 🙂
I enjoyed the read, until I got to November, where I found an error (which I have highlighted in the picture above).
For some reason I found myself incensed with this and tried to leave a comment on the site, to alert them to their heinous blunder – I mean, how could they confuse celestial mumbo-jumbo with proper science?
Unfortunately, my BBC login wouldn't allow me to do so, saying that I was way too old to comment on the site – like I was some kind of space-nerd paedo, or something.  This incensed me even further and I started composing a a strongly worded email to the Beeb… before something else caught my attention and distracted me.
And then I lost interest.
Us Taureans have a short attention span, y'see.
Anyway, I'm pleased to see that they have now corrected it.