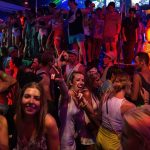 I can't take anymore.
I'm all partied out.
Following the slew of parties before Christmas, we then had – of course – our own Christmas day festivities, at home. This was followed up on Christmas night by a visit to my sister's, where further festivities took place.
For "festivities", read "drinks".
Quite a boozy Christmas, all in all.
And, we have just returned from a weekend up near Daventry, where we attended a family wedding ceremony.
Followed by "festivities".
A lot of festivities.
Quite frankly, I just want to spend the next two days just laying  in front of the telly, with several cups of tea… and stuffing out-of-date mince pies down my gullet.
But no. It's New Year's Eve tomorrow and we have been invited to the traditional family knees-up: always a raucous affair, with plenty of … (ahem),  festivities.
Mrs M has already given her apologies, as she will be working late and is doubtful she can make it.
I, however, have no excuse.
Save for a liver that is crying out for some time off.