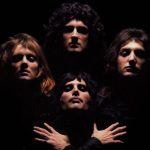 Instead of going straight home from work, last night, I took a detour into the Leisure Park  (formally known as Wally World, but it's been revamped and is a great improvement) at Hemel Hempstead, where I met up with the current Mrs Masher.
We went to the pictures.
On our own.
Sans kids.
It was great!
We saw the Queen/Freddie Mercury biopic, Bohemian Rhapsody.
Wow! I loved every minute of it. Great film.  And it was quite possibly the cinema audience with the highest average age, that we have ever sat in.
After that, we nipped over to Nando's… which was a peri-peri good idea, as the place was half empty and we got fed very quickly indeed.
A speedy drive home up the M1  was made even quicker, by the fact that I had Bohemian Rhapsody turned up to 11. "BISMILLAH NO!" I shouted at the wife as I shot past her, breaking the speed limit ever so slightly.
Back home, the kids had already gone to bed, and so we settled in front of the telly for half an hour, to watch one of the funniest episodes yet of our current favourite comedy: Cuckoo, before hitting the sack.
As Thursday's go, it was most excellent.