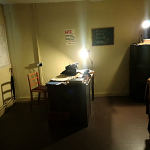 Yesterday, I made another visit to Bletchley Park.
This time, Amelia came along too. "I doubt you'll be interested", I said, but she assured me that she would.
The very first thing she was interested in was the cafeteria. "I'm hungry", she said, the moment we arrived and she clapped eyes on the scones and Danish pastries. So we stopped – before we'd even started – and had something to eat and drink.
The first place we visited was the National Radio Centre. Although I'd been there just a couple of weeks ago, I felt it worth another visit.  Excitedly, I showed her some radio sets of old and explained the transition from valves to transistors.
Enthusiastically, I demonstrated how amateur radio satellites are used.
"Meh."
Outside, as we walked to Hut 11a to see the Bombe exhibition, she said "You loved it in that radio room, didn't you? You're such a nerd!"
I took it as a compliment.
After 11a and 11, we went to Hut 8, which was where Alan Turing did much of his work. The photo above is of his 'office'. I was struck by the starkness of it.  At work, we are given ergonomically designed, comfy chairs to sit on and are advised to get up and take a break for ten minutes every hour.  Turing's office chair is a far cry from what we have today and I'm sure he spent hour upon hour sitting at his desk, without a break. I'm also willing to bet that he didn't complain about it once! Different breed, back then.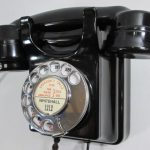 Amelia was getting really bored by now and as I dragged her over to Hut 6, she started complaining of being hungry again. "Tough" I said, as I pushed her through the old wooden door.  Again, many of the offices had been recreated, to look as they would have done in the 1940's and suddenly something caught Amelia's interest. It was a telephone; an old fashioned telephone, in black bakelite, with a rotary dial. "Do you know what that is?" I asked. She nodded, "Of course I do", she said, "It's a telephone."
"Do you know how to use it?" This time she shook her head and so I showed her how to put your finger into the correct hole and then pull the dial round until it hit the finger-stop.  She said that she'd seen people doing this on the telly, but hadn't actually understood how doing that was dialing a number, until now.
I suddenly felt very old.
Time caught up with us and so we left the hut, picked Harry up from his maths class and headed home.
She tells me that she doesn't want to come back with me next week.
I'm glad.