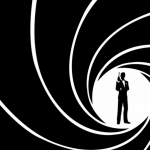 Yesterday morning found me back at Bletchley Park.
This time – having looked around the Cyber Security exhibit first and finding myself feeling pretty non-plussed about it all – I wandered over to Hut 12, which housed a James Bond exhibition.
Being a big Bond fan, I had high hopes for this, but they were ultimately dashed once I stepped inside. The exhibition was  – in the main – a load of paintings hung on the walls, each with a Bond connection. For some, that connection was vague, to say the least.
Far more interesting (to me, at least) was a couple of glass cases, that housed original letters typed and signed by Ian Fleming to the high-ups at Bletchley Park.
As Personal Assistant to the Director of Naval Intelligence, Fleming had a high security clearance, giving him access to many high level reports in his role to find ways of intercepting enemy coding materials.
He even contrived a scheme to get hold of Enigma paperwork, by disguising a British aircrew as Germans and then crashing them into the Atlantic in a captured German bomber, to lure a German rescue ship. The crew would then overpower and kill their rescuers and capture the papers and/or an Enigma machine.
Operation Ruthless – as it came to be called – never happened, due to a lack of suitable targets, but with that sort of cunning and imagination, it's easy to see where the James Bond stories came from.
After all that, I headed to Oxford, where I met up with some friends from work and we saw the sights did a pub crawl.
I got back to my hotel in the early hours and slept like a log – well, I probably would have, if I didn't have the bladder of a small child and the need to get up several times in the night!   My head was thumping this morning, but a hearty breakfast and several mugs of tea later and I am as right as rain.
Which is exactly what it's been doing all day, so that means I can't cut the grass, as planned.
Shame. 🙂