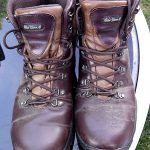 These are my walking boots.
They really were made for walking.
And I walk in them everyday, when I take the dog out.
They're a bit heavy, but so VERY comfortable – now that I've broken them in.
But, I'm not the only one who loves my boots (or beewwts as they are known elsewhere).
Saber adores them because, when she sees me pick them up, she knows it's THAT time.