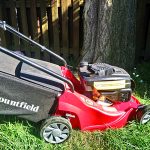 Well, Summer seems to have arrived properly now, which means the grass needs to be cut far more regularly.
I hate gardening in general, so will only do the bare minimum to keep it looking tidy.
However, that bare minimum suddenly became a lot easier, last year, when I decided to get a petrol driven lawnmower. Not having to drag extension leads around the garden and not having to worry about accidentally running over the cord and cutting it (which I have done several times, in the past), makes the chore of mowing the lawn, that bit more agreeable.
In fact, so impressed was I with this (should have got one years ago), that I also went out and bought a cordless strimmer and a cordless hedge trimmer, both of which have proved to be a boon.
Now, if I can just find a cordless, dog-proof, garden broom…