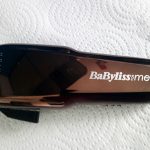 I have had my haircut, this morning.
No visit to the barber for me, though. No, I let the current Mrs Masher do her usual hatchet job on it.  Fortunately, the 'hatchet job' is my preferred style.
In fact, I don't think I have visited a barber's shop since Mrs M and I first got together.
She's not a trained hairstylist, or anything, but cutting hair is something that all women can do, I think.
To a degree.
Yes, on the odd occasion she has made a pig's ear of it, but it's never really bothered me.
Because it grows back.
All too quickly.
And nowadays, she pretty much has it off pat.
We have gone through many clippers over the years, but these are Mrs M's currently preferred set.
They have lasted well and, after many uses, are still very sharp… as the blood currently running down from the tip of my left ear will testify.