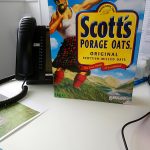 I get up at 5am most days.
Breakfast tends to be around 5.10 and usually consists of Sainsbury's Fruit & Fibre or Muesli.
That sees me through to mid-morning.
By 10am I am getting peckish again and so I have a box of porage sitting on my desk, just for that time.
As seen previously, we have plenty of milk.
And a microwave.
I'll also slice a banana into it… just for fun. And some blueberries, if there are any kicking about.
Delicious.