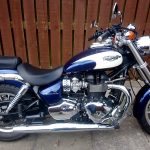 This is a picture of my bike, taken earlier today.
Just after we returned from the nail-biting ordeal that is the annual MOT.
I'm pleased to say that she passed with flying colours – although we did pick up an advisory warning for the tread on the front tyre being close to the mark.
Which it was, so I have asked them to order a nice new one.
I was a little bit apprehensive about the exhausts though, as I fitted new, louder ones a little while back.
Much louder.
I need not have worried: "She sounds nice" said the MOT inspector.
Indeed she does.