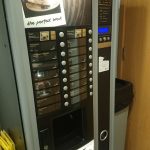 Today, I have been to our head office in Reading.
For meetings, of course.
They don't have teabags and a well stocked milk fridge there though.
Instead they have these tea & coffee machines.
Vended tea is the work of Satan and I avoid it at all costs.
Vended coffee isn't much better… because they use powdered milk.
And so, black coffee becomes my alternate hot beverage.
To be fair, the coffee out of this machine is much better than others I've tasted.
But it's still bloody horrible.