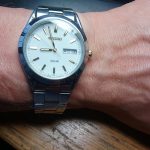 This is my wristwatch.
Well, it's one of my wristwatches. I have three.
This is my day-to-day work watch. It's solar powered, so doesn't need winding.
I also have a weekend watch. Same make, but slightly more expensive, waterproof and powered by kinetic energy.
The third is my dress watch, the one I wear to weddings and funerals. It too is solar powered, waterproof and it is synced via radio to DSF77, the time signal broadcast from Germany.
I don't wear jewelry of any kind… apart from a wristwatch… which I wear all the time (pun not intended, but unavoidable).
Without one, I feel naked.