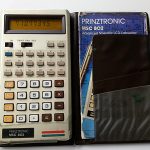 This is the calculator that I use at work.  I took it out of my desk drawer specifically for this photo. And I wrote SHELLOIL on it, because it would have been infantile to have written BOOBS… and – contrary to popular opinion – I am a grown up.
I bought this calculator… actually, I didn't – my parents bought me this calculator to do my college exams with.  I remember going into Dixon's with my mum, and I remember her wincing at the price when I picked out the one that I wanted.
But, I've always been one to look after things and so this calculator – though it's somewhere around 38 years old – still works perfectly. And it even still has the original instruction manual, tucked into its imitation leather, plastic wallet.
It got me through my electronics exams.
It got me through my Radio Amateur's exam.
It even got me through the mathematical questions they suddenly threw at me, at my job interview for the GPO/British Telecom.
OK, yes, I've had to change the batteries and clean up the PCB, but on the whole, mum, I think I got your money's worth.